Prime Minister's vision of Clean India has taken the form of Jan Andolan- Shri Kaushal Kishore, MoS- MoHUA
Winners of  Swachhata Startup Challenge felicitated by MoHUA
Each of top 10 winners to get seed funding and dedicated incubation support from French Tech
Each of next 20 shortlisted startups to get funding support of Rs 20 lakh from Government of India
Ministry of Housing and Urban Affairs (MoHUA) felicitated the winners of Swachhata Startup Challenge in an award ceremony organised here yesterday. Shri Kaushal Kishore, Minister of State for Housing & Urban Affairs, H.E Emmanuel Lenain, Ambassador of France to India Shri Manoj Joshi, Secretary, MoHUA and senior officials of Ministry along with representatives of several start-ups working in sanitation and waste management sector graced the occasion.
Read also – My professional journey has been long, wide & winding: Suniel Shetty
Speaking at the event, Shri Kaushal Kishore said that the vision of Prime Minister Shri Narendra Modi of having a clean India has taken the form of a Jan Andolan with launch of the Swachh Bharat Mission- Urban (SBM). Recycling and turning of waste into useful products under this mission, may not just help in moving in direction of Garbage Free Cities but also help in generating employment at large scale.
The Minister informed that out of the 30 shortlisted start-ups shortlisted under the Swachhata Startup Challenge, each of the top 10 will receive financial support of Rs. 25 lakh from French Tech, the French government's initiative to promote start-ups. Each of the remaining 20 start-ups will get the financial support of Rs. 20 lakh from Government of India, he announced.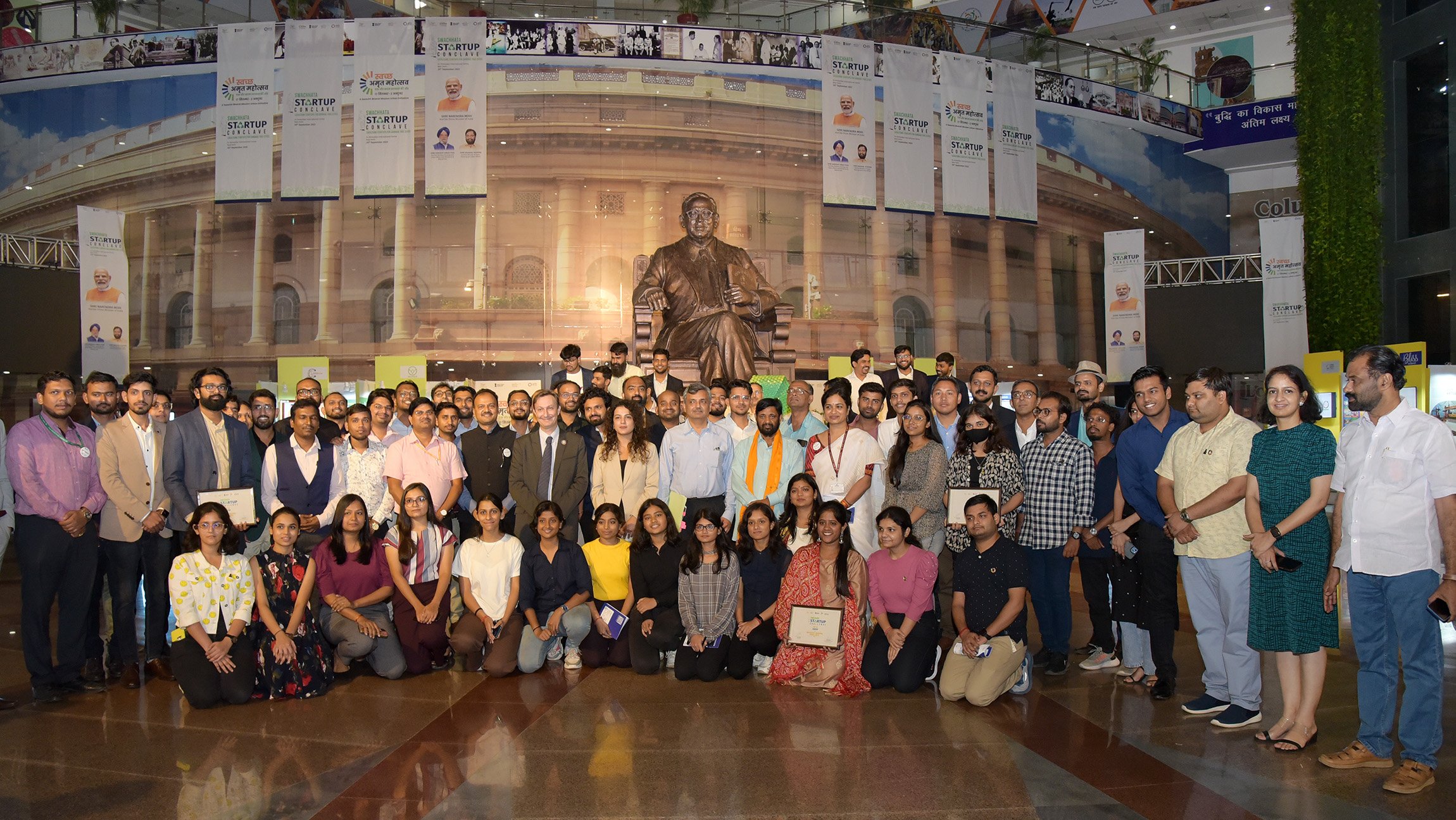 Shri Kaushal Kishore said that the promotion of start-ups through this challenge is a move towards 'Make in India'.
Drawing attention towards marketing of recycled products, he said that the marketing and creation of awareness about these products is of high significance for the start-ups to further scale up. He advised the start-ups to create awareness about their products in rural areas using local languages.
Lenain said, "France and India are committed to working together on tackling plastic pollution and waste management. The AFD-MoHUA Swachhata Startup Challenge is a concrete step in this direction, and we are proud of the overwhelming response it has received."
The Swachhata Startup Challenge winners-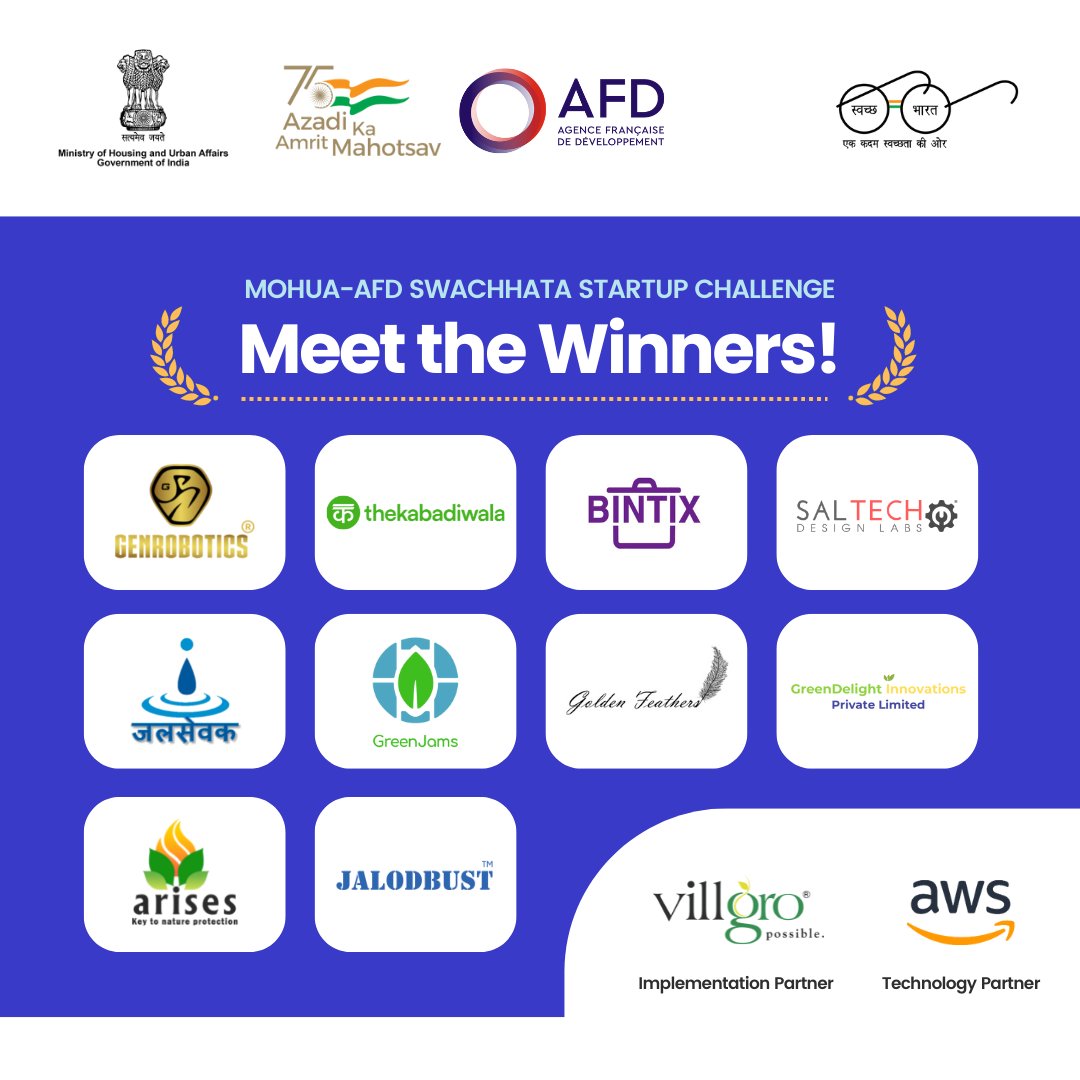 Read also – [Funding alert] Biggies Burger raises Rs 5.5 Cr in funding
Genrobotics develops robotic scavengers engineered to clean manholes and sewers, thereby eliminating manual scavenging.
The Kabadiwala enables users to sell and schedule free pickup of over 40 different categories of recyclable wastes.
Bintix Waste Research tracks collection, weighing, sorting and recycling of dry waste coming from each household.
Recycler India – Saltech transforms single-use plastics, construction and industrial waste into high-performance composite building materials.
Jal Sevak recycles wastewater from bathrooms, sinks, cloth-washing and dishwashing for flushing toilets and urinals.
GreenJams produces carbon-negative building materials out of crop residues and industrial by-products to replace conventional bricks.
Mudita and Radhesh transforms chicken waste into handloom cloth, which is turned into clothes and accessories by tribal women and local village artisans.
Green Delight Innovation produces India's first FDA-approved sanitary pads that are organic, plastic-free and biodegradable.
KNP Arises offers a platform for hotels, restaurants and other food businesses to dispose of used cooking oil in a traceable and effective manner.
Cherries produces a portable, multi-functional Sanitation Service Equipment, which pumps high-density fecal and sanitary sludge from leach-pits, septic tanks and manholes.
Out of the 30, a total of  top 10 winners have been identified, each of whom will be receiving seed funding and dedicated incubation support from French Tech, the French government's initiative to promote start-ups.